County Fairs in Connecticut
The transition from Summer to Fall is a great time for county fairs. Here's a compiled list of all the ones in Connecticut.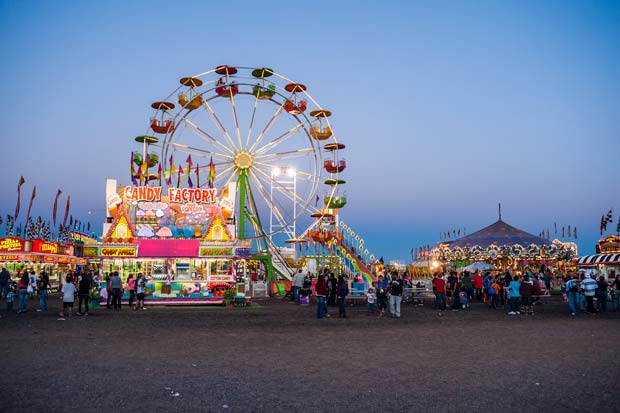 Brooklyn Fair
August 24-27, 2017
Come experience the oldest, continuously active agricultural fair in the United States, featuring draft horses, livestock shows, home and garden exhibits, live entertainment, historical displays, special daily events and of course, great food.
Chester Fair
August 25-27, 2017
The Chester Fair is a time honored tradition in a quintessential small New England town that never disappoints. Come see Robinson's Racing Pigs and all the favorites you'd expect, like tractor pulls, frog jumping contests and arts and crafts exhibits.
Terryville: Lions Club Fair
August 25-27, 2017
This year, the Terryville Fair will feature all of the old favorites you'd expect from a traditional country fair, as well as a few new surprises, like ATV and dirt bike drag racing, Jeep and pickup truck tug-of-war competitions and side-by-side truck racing. All of this and great food and entertainment, too!
Haddam: Neck Fair
The Haddam Neck Fair is celebrating its 104th year and is known for its family-friendly atmosphere and beautiful setting. The many events offer something for everyone including tractor and truck pulls, horse and oxen pulling contests and a horse show. Animal exhibits and contests, like women's skillet throwing, are popular. Vendors are on hand to offer vegetables, flowers, canned goods and handmade arts and crafts. There's live music and delicious food, too!
Woodstock Fair
Celebrating its 156th year, the state's second oldest agricultural fair has tasty food, livestock shows, a petting zoo, free stage shows, a midway, go-kart races, strolling entertainers, plenty of vegetables and flowers, and much more.
Major agricultural fair with livestock judging, draft horse show, woodcutting competition, entertainment, food vendors, midway, arts and crafts, home exhibits, and more. This celebration includes an adult spelling bee, fireworks, hay bale toss contest, parade, pie eating contest, and a skillet throw contest.
Hebron: Harvest Fair
This major agricultural fair is packed with fun and entertainment including livestock shows, a midway, exhibits, a small-animal barn, arts and crafts, food booths and continuous stage entertainment.
North Haven Fair
Bring the kids to Old MacDonald's Farm for a kids pie eating contest then visit the animals in the petting zoo. Enjoy
live musical performances, agricultural exhibits, arts and crafts and great fair food.
Wapping Fair
Agricultural fair featuring livestock, rides, bands, magic, food truck festival, exhibits, children's attractions, aerialist performance, exotic animal meet and greet, vendors and more.
Bethlehem Fair
Old-fashioned agricultural fair with livestock, agricultural exhibits, horse show, horse drawing, art and photography show, farm displays, amusement rides, food, and entertainment.
Ledyard Fair
Country fair featuring midway, stage entertainment, livestock shows, exhibits and much more.
Somers Fair
September 14-17, 2017
You'll have one-of-a-kind fun at the four-day, Four Town Fair, one of Connecticut's oldest fairs. See the 20th Annual Antique & Classic Car Show, a rockabilly )performance from The Whiskey Rebels and the Fair Parade. Like contests? There's the Doodlebug Drawing Contest, Largest Frog & Frog Jumping Contest, Heaviest Pumpkin Contest and even a Corn Eating Contest. And you won't want to miss the Open Swine Show or the Women's Skillet Throw.
Berlin Fair
The Berlin Fair began in 1882 as a Harvest Festival, became a state agricultural fair in the early 1900s, and remains a much-anticipated event in central Connecticut. The packed schedule includes pie-eating contests, frog jumping, large animal and crafts exhibits and live entertainment throughout the weekend.
Guilford: Agricultural Fair
The Guilford Fair is part traditional fair, part circus, part Broadway theater. In addition to the midway rides, games and food, visitors can enjoy performances by the fair's family circus - the live tiger and lion acts will wow spectators of all ages.
Orange: Country Fair
From the classic car show and tractor pulls to arts and crafts and animal displays, there is truly something for everyone at the Orange Country Fair. Enjoy live entertainment and all types of mouthwatering fair food.


Durham Fair
Begun in 1916, the Durham Fair continues its tradition today as Connecticut's largest agricultural fair. With rides and games, tractor pulls, three livestock barns, crafts, exhibits featuring baking, canning, photography and horticulture, and a wide selection of fair food, there's a huge harvest to take in.
Harwinton Fair
The Harwinton Fair offers good old-fashioned fun for all! See the Pig Races, Antique Tractor Show, Rabbit Costume Contest, Oxen Draw and Civil War Displays. Enjoy a magic show and bluegrass music after visiting the barnyard animals. Stop by the Country Store for a memento of your
special day!
Portland Fair
Signifying the close of fair season, the Portland Fair gives enthusiasts one last chance to experience all the classic fair entertainment, food, exhibits, animals and activities for the year.